Contact your travel advisor and plan to join Oktoberfest 2019
Grab your lederhosen and get ready to celebrate all things Bavarian at the world's largest fair: Oktoberfest! This festival has come to define autumn in Germany and it is truly a once in a lifetime celebration. Splurge on dumplings, sausage, roast chicken, and of course, world famous Oktoberfest beer. Join in the party this year!
A whirlwind of singing, dancing, costumes, and traditional brass bands, join thousands of guests from around the world at this larger-than-life festival. Begin your trip in Frankfurt, by enjoying a delicious glass of Riesling in a castle-winery. Your journey comes to a peak in Munich, where giant pretzels, delicious Würst, and countless other German treats will tantalize you with Bavarian charm, and you'll tour the beer tents and fairgrounds of Oktoberfest with your own private guide, and a reserved seating dinner. With each tent having its own unique atmosphere, you're guaranteed to find the perfect setting for your Oktoberfest experience. ... Show More »
Combining organized tours as well as giving you freedom to explore at your own pace; this is a perfect trip to immerse yourself in both of these German cities. Ask us about staying on a few extra days to celebrate Oktoberfest at your own pace.
This tour offered by Kenginston Tours.
Itinerary
Day 1: Day by Day Itinerary
Day 1: Frankfurt
A welcome package with a city map, train tickets (if relevant), and any other touristic information that we deem you may find useful will be waiting for you upon your arrival at your first hotel on your trip.
Enjoy a private transfer between your hotel and Frankfurt Airport alongside a professional driver.
For your added comfort, an English speaking assistant will be waiting for you at the hotel lobby. Your representative will help you to check in and walk you through the welcome package documents, your itinerary and answer your questions.
Accommodation: NH Frankfurt City Hotel (4*) (B) (Standard)
At the NH Collection Frankfurt City Hotel, exceptional location is paired with outstanding service. Within walking distance of the city's exclusive shops and historic downtown, this newly renovated hotel has been designed to provide guests with all that could be needed while visiting Frankfurt. All 256 guestrooms are air-conditioned and equipped with modern comforts and amenities. The on-site restaurant offers a selection of international, national and Spanish dishes, accompanied by a fine selection of wines, cognacs and cigars at the hotel bar. For relaxation the hotel provides a well-being area where you can enjoy spa facilities, including a fitness room, sauna, massage room, steam room and solarium.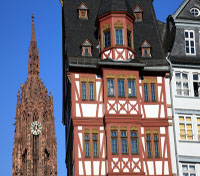 Frankfurt
NH Frankfurt City Hotel
Day 2: Frankfurt
You will be picked up at your hotel and transferred to one of the region's most prestigious vineyards for a wine tasting with your English speaking guide. Castle Johannisberg sits amongst the quartzite hills in the heart of Germany's wine country. The winery is famous for its Riesling, but you will have the opportunity to sample other varietals during your tasting (3 different wines included). At the end of your tour, you will be returned to your hotel.
Accommodation: NH Frankfurt City Hotel (4*) (B) (Standard)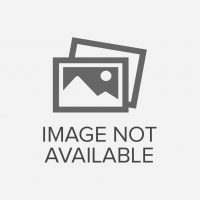 Castle Johannisberg
Day 3: Frankfurt - Munich
Enjoy a private transfer between your hotel and the train station in Frankfurt alongside a professional driver.
Settle in for a transfer by train from Frankfurt to Munich. Approximate travel time is three hours and 30 minutes.
Enjoy a private transfer between your hotel and the train station in Munich alongside a professional driver.
Accommodation: Hotel Excelsior (4*)
Hotel Excelsior is located in the heart of Munich's city center and is distinguished by traditional Bavarian hospitality, its elegant country-house style and personalized service. Offering an incomparable blend of atmosphere and warm Bavarian sophistication, you will feel at home from the moment you step into the hotel. The ground floor luxuriates in refined country-house style and ceiling frescos while the upper floors are more modern. The hotel houses a traditional restaurant that serves delicious Bavarian-Italian specialties, and an outstanding selection of fine wines – Geisel's Vinothek.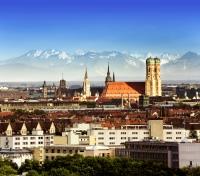 Munich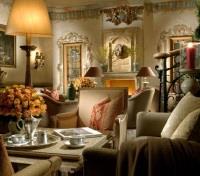 Hotel Excelsior Lobby
Day 4: Munich
Visit Germany's oldest commercial brewery on this private guided walking tour of Munich. Discover the city's legendary beer-making history and visit the world-famous Hofbräuhaus beer hall. Munich has long been hailed as the beer capital of the world and every year plays host to the uproarious party known as the Oktoberfest. Regardless of whether you can tell a pilsner from a lager, this tour of the city's beer halls and breweries will satisfy your thirst for beer and your thirst for knowledge of Munich's brew-making history and its famous beer. You will visit traditional beer halls favored by Munich residents. Finally, toast to your newly-acquired knowledge with beer at Hofbräuhaus, one of the city's most popular beer halls (3 beers per person included). Don't miss out on this beer tour of the beer capital!
Accommodation: Hotel Excelsior (4*)
Day 5: Munic
Enjoy an informative and entertaining walk through the heart of Munich's beautiful old town with a private guide. Along the way your guide will take you on a journey through the city's colorful 850-year history, stopping at various attractions, which have over the years witnessed events that created not just regional, but worldwide interest. From royal scandals over great international celebrations to the rise as one of Europe's most influential and affluent cities, Munich has experienced it all! Let your guide explain the known and reveal the secrets of this beautiful Alpine city. Your guide will also take you through the famous Oktoberfest fairgrounds where you can visit the beer tents and experience this world-renowned Bavarian festival. Stop in any tent that appeals, as each has its own atmosphere. Soak in the festivities, listen to brass bands, admire the costumes, or visit the midway! Oktoberfest is an event for everyone, whatever your speed.
Accommodation: Hotel Excelsior (4*)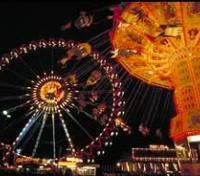 Oktoberfest
Day 6: Munich
Enjoy time at leisure to explore at your own pace, or relax at your hotel.
Accommodation: Hotel Excelsior (4*)
Day 7: Munich
Enjoy a private transfer between Munich Airport and your hotel will be provided upon arrival.
Accommodation: Depart (Int`l Airport) (standard)
Depart from International Airport. End of itinerary.